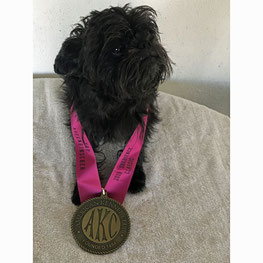 Ghillie Dhu Connolly CD BN RI THDN CGCA CGCU TKN (aka;Billy).
Has accepted his invitation to the AKC National Obedience Classic, Novice Division.
He was in the company of amazing dogs and Handlers, he did not place in the top 10, but he had three good runs over 2 days. For his efforts he was given the Top Affenpinscher Award.  We are very proud of him and what he's accomplished.
Ken Stowell and Alison Fackelman.
---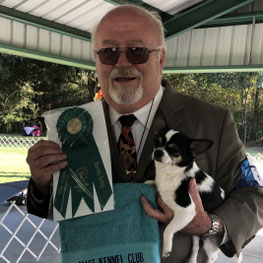 Today November 3rd, at the Space Coast Kennel Club, Champion Winddancer's Double Play (Uno) Was awarded his AKC Champion title with a group 3 Owner-Handler along with "Lara" (Antipova Leitmotiv of Sergushko) Who received her first two points today.
They are both loved and spoiled by Ken Stowell & Alison Fackelman.
---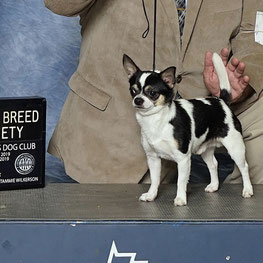 Winddancer's Double Play aka: Uno, took Best Of Breed Saturday and Sunday over a Grand Champion. We are most proud of him. Ken Stowell and Alison Fackelman.
---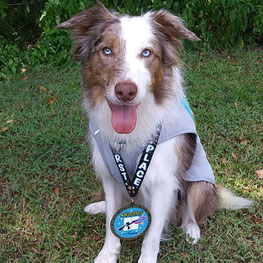 Team "Twist"ed Mister achieved 1st place and a personal best in both Frizgility & 4-Way Play and 2nd place in Greedy & Funkey. Twist had a good showing with his Funkle Chris too. Team "Twist"opher earned a 1st & personal best in Greedy, 2nd & personal best in Spaced Out & 2nd in Frizgility & Funkey.
---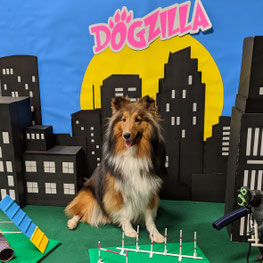 Congratulation to Theresa Colbert & Kaylee!  JANDALE MISS KAYLEE MY LITTLE DIVA did awesome at DACOF!! There were 52 Novice dogs and she came in 7th Place at only 20 months of age!!  
---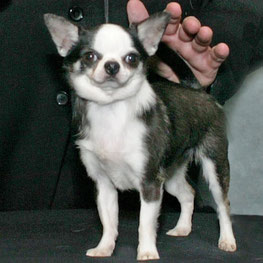 Mynameisgretel (Pup-Pup) on June 15th took Select Bitch and Owner-Handled Best of Breed from Judge Mr. Edd E. Bivin and on June 16th took OHBOB and Award of Merit from Judge Mr. Johan Becerra-Hernandez at the Tampa Bay Chihuahua Club.  Pup-Pup is much loved and spoiled by Ken Stowell and Alison Fackelman. 
---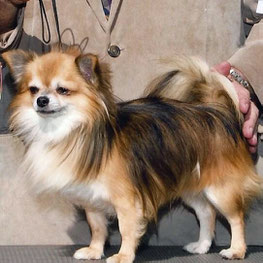 CH Cavahua's Liberty's Tiger Bells (Tiger) on June 16, 2019 won Award of Merit at the Tampa Bay Chihuahua Club Specialty under Judge Mr. Johan Becerra-Hernandez.
---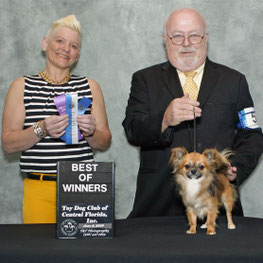 Cavahua's Rainbow Sky (aka: Rambo) for the second weekend showing he has acquired 2 pts on Saturday, June 1 (Judge Dr. Troy Clifford Dargin)and 2 pts on Sunday June 2, (Mrs. Tammy K. Jackson). 
For Sunlight Bluz (aka: Eddie) he has taken Owner-Handler BOB 2 days in a row and Winners Dog. Both dogs are loved and cared for by Ken Stowell and Alison Fackelman.
---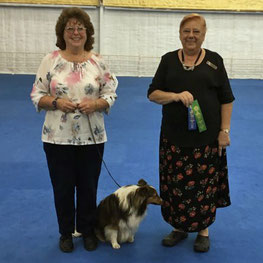 Himarks Spectacular Legend, Promise, 11-12-16, won 1st place on Sunday,May 12,2019 at the Dog Training Club of Tampa under Judge Louann Currey with a score of 193 out of 200 in Preferred Novice.
---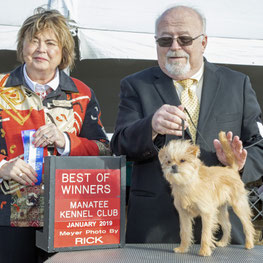 Sunlight Bluz aka Eddie took First, Winners Dog and Best of Winners, Owner Handler Best Of Breed on Sunday, January 20th at The Brooksville Cluster 2.
Trained and Loved by Ken Stowell and Alison Fackelman.
---
January 10, 2019, In Brooksville, Himark Apollo's Southern Delight, Apollo, 10-27-14, came in 1st place in Preferred Novice  under Judge Marlene Burford with score of  186 & 1/2 out of 200. Was 43 degrees up there & windy, & I noticed his heeling was off in ring, but still proud of my boy. This is qualifying # 2 & one more qualifying score, he has his Preferred Novice title.
---